Gaia Hotel & Reserve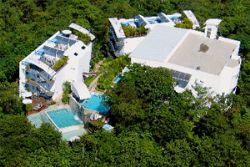 Gaia Hotel & Reserve
The Gaia Hotel achieves an ideal blend of modern amenities and natural scenery. Nestled in the magnificent coastal forests of Costa Rica, the hotel's well-appointed, terraced suites and villas offer views of lush and pristine wild surroundings that are beyond compare. The hotel sits on a vast tract of lowland coastal forest, teeming with spectacular and rare wildlife.
Gaia Hotel & Reserve Dining:
...

Serving connoisseurs of travel since 1977, Journese℠ embodies the promise of an exquisite journey, with fine travel made seamless and effortless through experienced Destination Specialists. Our travel experts personally visit and handpick the world's finest properties, establishing supplier relationships to ensure VIP treatment at premier resorts, Private Retreats℠, private resort residences, luxury trains and cruises. We offer journeys to Australia, Canada, the Caribbean, Central
...